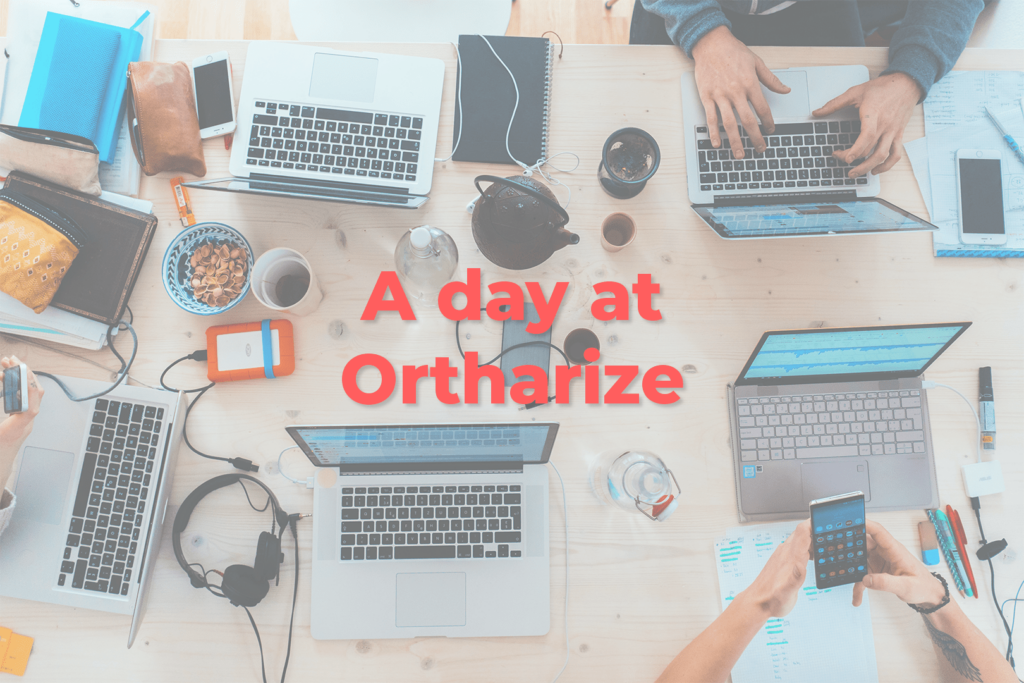 A working day at Ortharize – Jed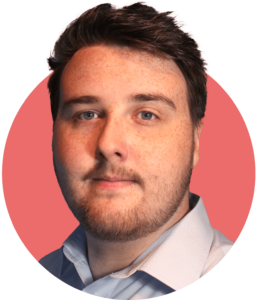 Hello! I'm Jed, and I'm a Marketing Executive at Ortharize, and I've been a part of the team since April 2021. I love that my job means that I'm usually working on something different every week.
My role is very diverse at the moment and I'm involved in pretty much everything marketing related. As well as helping our marketing interns take their first steps in their marketing careers. I like marketing because it lets me be creative. One day I might be designing in the Adobe suite, and the next I'll be working on a strategy to bring more leads to our sales and demo team.
How does your day start at Ortharize
Working from home was new to me when joining Ortharize. It was something that took a while to adapt to. It's easy to stay in bed until a couple of minutes before work, so I like to get up an hour or two before and do something to wake up and engage my mind. I'll typically alternate day to day from reading, playing a game for an hour, going for a walk (If the Welsh weather allows me to), or going for an early gym session. I'm a big fan of WFH and how I can reclaim the time that would otherwise be spent commuting.
I start my work day by planning my activities for the day. I'll make a list in OneNote and review our Trello boards for actions that need to be completed. We have a morning scrum at 10am where the team explains what they did yesterday, what they'll do today, and if there's anything in their way. I love it, it's a great way to talk ideas into existence and quite often leads to collaboration or help from other members of the team.
Is there any way you like to split your day?
I typically split my day in two, the morning and afternoon, with a lunch break separating the two.
From about 10:15/10:30 (depending on how long our scrum lasts) I start my morning tasks. Most days start with LinkedIn where I connect with new people and speak to them about Ortharize, It's a useful tool to meet new people and find our audience. Hopefully, these conversations go well and result in us gaining a few new clients. Which I'll then enter into our CRM for the sales team. I like to move onto our Trello board after this. I review any submitted work and check if it's ready for 'publishing'. If not, I'll make my suggestions and edits and move on to the next piece of work.
After this, I check what ideas we have waiting to be worked on and whether these can be discussed in our next marketing meeting.
I usually take my lunch break at around 1 pm, but having a flexible schedule and working from home means that I can take it anytime really. I like to get outside at lunch and usually go for a walk to the park. Before coming home to make some food and read for the rest of my lunch hour.
From around 2 pm I will block out the afternoon for bigger tasks, and it's usually when I get creative. I find I'm much better at this once I've had a meal and some fresh air. The afternoon is sometimes blocked out for a long session in Photoshop or Illustrator. This is another reason I love working from home. I can turn my speakers up, listen to music that I like, and get into a flow state while designing. My last office role used to consist of having a small radio in the team where we'd squabble over which station to listen to!
The last hour of the day once a week will be spent revising and scheduling the content that we've worked on for our website or for social media. I like to do this in one chunk to ensure nothing gets left behind. This clears our completed section on Trello ready for the next batch of work.
I'll also block out from around 4 pm to complete any work that involves completing forms. For example entering Ortharize into awards. We've been working on the product for a long time, and setting us up to win trophies for our hard work is extremely rewarding!
Which three people, dead or alive, would you invite for a one-off dinner?
J R R Tolkien, George Harrison, and David Attenborough. I think there'd be a diverse enough conversation that all of them could participate in, and I could just sit there and listen.
What advice would you tell yourself in 10 years' time?
Stop worrying, everything works out in the end. Oh, and I hope you learned to drive by now.
Careers at Ortharize
We're a growing team at Ortharize, and in the near future will look to expand. If you're interested in working with us, keep an eye on our socials, where we'll post all available career opportunities. You can find us on each of them here: LinkedIn, Facebook, Twitter, Instagram