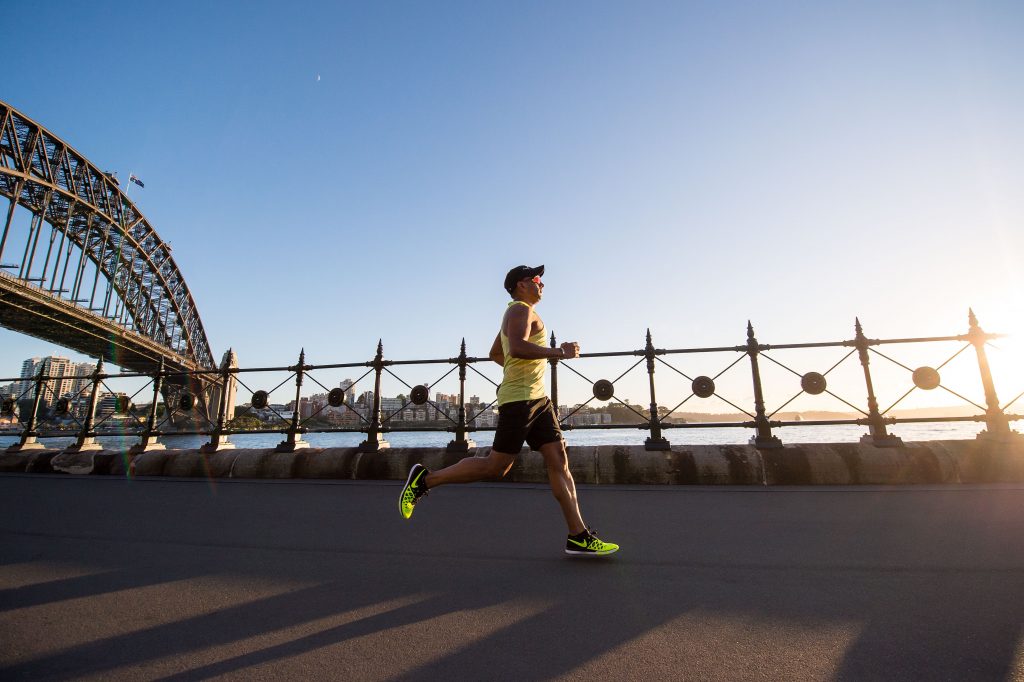 10 ways to stay healthy on a business trip
Travelling can be exhausting, causing stress on your body – regardless of whether the purpose is for work or leisure. It can disrupt your sleep, what you eat, and your workout routine. All of which are key factors in maintaining a healthy lifestyle. The Harvard Business Review conducted research which has shown that individuals who spent 14 or more nights away from home per month were significantly more likely to have anxiety and depression. They also found that these individuals did no physical exercise, smoke, had trouble sleeping, and that they were 92% more likely to be obese compared to individuals who didn't travel for work.

In order to tackle some of these statistics, we have devised ten top tips for staying healthy and active whilst travelling for business.
Take the stairs
If there's an option between an elevator or stairs, opt for the stairs. It's an easy way of getting that heart rate up without dedicating yourself to a workout. It's also a great way to burn some extra calories and build strength in your leg muscles.
Use a Smart Watch
Apple watches and Fitbits are a great way to keep on top of your activity goals whilst on the go! The regular reminders can prompt you to keep active and encourage more movement. Smart watches have a whole range of benefits, besides just telling the time, they can measure your heart rate, sleeping patterns, oxygen levels and your step count, helping you learn more about your body.
Run the local routes
Strava is a mobile app/website, which can give you community built running/jogging routes depending on where you are, making it easier than ever to keep on top of your cardiovascular fitness before or after business meetings!
Protect against Covid-19
Travelling for business during the pandemic can be daunting, but taking the proper measures to protect yourself can put your mind at ease. Ensuring you are wearing a clean face covering, washing your hands regularly, and keeping a safe distance between other people is a great way to slow the spread, and reduce the likelihood of catching Covid 19. Check out our previous blog here on travelling during the pandemic for more tips.
Go Exploring
Between meetings and calls, make sure you spend some free time out of your hotel room for some well deserved fresh air. Go for a jog or a walk around the surrounding areas, it will allow you to clear your mind and get some movement in. Also, it will let you get to know the city or country, and take in some of the culture.
Hotel Room Workout
If the weather is rubbish, and there's no hotel gym, how about doing a high intensity interval workout in the comfort of your own room! Find some space where you can move freely and try one of Live Strong's 20 minute hotel workout plans. This is a great workout which will really get your heart rate pumping and endorphins flowing.
Make sure you're getting enough sleep
As mentioned previously in our blog about the importance of sleep when you travel, a lack of familiar surroundings can often be an issue when trying to get some shut eye. Pack your own pillow or another familiar item you like to sleep with, that way you can rest peacefully feeling more comfortable in your surroundings.
Stay hydrated!
It can be easy to forget about your water intake whilst on business trips, but keeping on top of your hydration has a whole range of benefits which can make you feel better, and help you perform better in work. According to the Healthline, drinking enough water everyday can aid digestion, improve concentration and brain function, increase energy levels, and prevent headaches.
How to eat healthily whilst travelling?
Busy business trips make convenient fast food such as Mcdonalds a go to. However, eating highly processed foods can leave you feeling lethargic and tired, which isn't helpful whilst working. Try to pack some healthy snacks such as nuts and dried fruits which can keep you going when hunger strikes, or opt for healthier options in the fast food branches. Instead of a Big Mac and fries, try a grilled chicken salad and a fruit bag or maybe a salad bowl from Subway. Eating plenty of fruit and vegetables can keep you feeling sharp and energized throughout your trip.
Healthy mind, happy life
Keeping your mind active and healthy is just as important as keeping your physical body healthy. Research from The Alzheimer's Association found that keeping your brain active by doing new things, can help retain brain cells and produce new ones. This will keep you feeling sharp and improve memory. Ways to keep your brain active could include listening to engaging and interesting podcasts, reading a new book and completing puzzles such as crosswords, sudokus or word searches.
Enjoyed this article?
Thanks for reading our content and visiting the website. We post new content about business travel, our platform and the employee culture we're building every week across our social media sites which you can see below. We also provide a weekly travel news round-up on Medium, so you can stay up to date with the latest on the ground, rails or up in the sky!