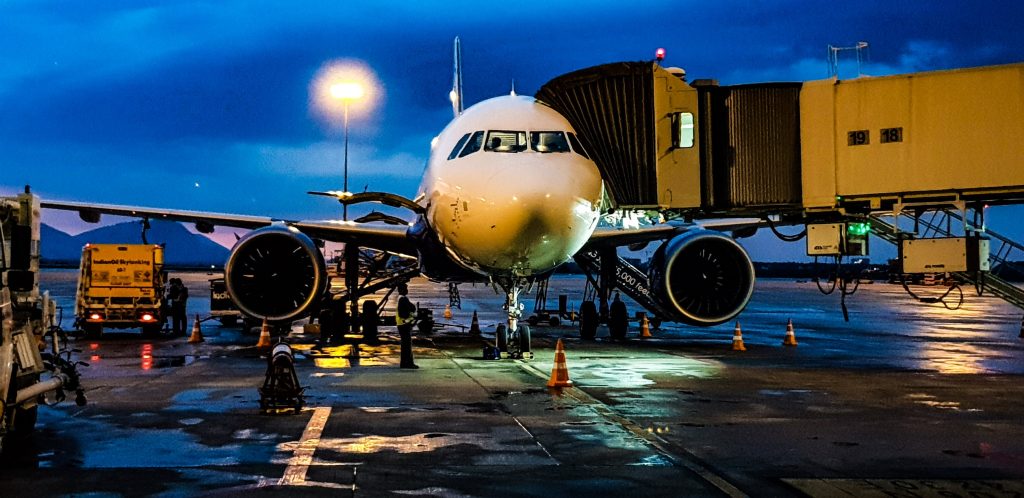 What to expect when flying post-COVID-19
Businesses and travellers are returning to the skies and beginning the process of flying post-COVID-19. We've developed a series of articles for our blog to give you an insight into how things have broadly changed. Find out below what to expect when travelling for business at airports and on planes, as well as some top tips to make your journey go smoothly.
Airports
Check your temperature before you leave home. You may have your temperature checked at the airport, and if it's classed as high, you could be asked to return home and not travel. It is advised that you don't touch any surfaces within the airport to reduce transmission risk, and if using self-service terminals, you should wash your hands afterwards.
The UK Government advises that travellers shouldn't walk around the airport and mix with strangers before boarding. If you're browsing in the shop, only touch items you're going to buy and pay with contactless where possible. Have your passport open to show staff and avoid contact (plexiglass screens are in use at many airports).
Staff throughout most airports will be wearing masks and gloves and there will be plastic screens in place at document checking stations. As fewer people are travelling, there may be queues and delays through security, with fewer staff and screening lanes open. Arrive early where possible.
Flights
Many governments and airlines require masks to be worn at all times in-flight when flying post-COVID-19.
Many airlines are professionally cleaning their aircraft each day and have implemented high quality air filtration systems that operate to hospital standards. To find out more on what each aircraft is doing to reduce transmission, visit their website.
Many airlines are offering a simplified catering service and are accepting contactless only. Queuing for the toilet is usually prohibited and passengers are asked to remain in their seats at all times.
For up-to-date useful information on every country in the world, check out the IATA travel restrictions map, powered by Timatic.
Destination
Leave the terminal as quickly as possible. Many airports have a strict distancing setup around baggage collection, where you'll need to queue at bays to collect luggage. Before travelling, make sure that you've checked your end destination for any restrictions, necessary tests on arrival or isolation periods, as these vary from country to country and can change rapidly.
About Ortharize
At Ortharize, we're making the world of business travel better.
We want to make it easier for you and your employees to book everything you need in one place. And we want to help you to keep costs down. We offer over one million hotels, more than four hundred airlines and all major car rental companies across the globe, including a large selection of budget options. We also offer all UK rail routes, with European and US rail on its way to our self-service booking platform very soon.
Our travel booking platform is easy-to-use. There are no booking fees. And with our exciting awards and incentives, your staff will be motivated to cut their travel costs. Our effortless automation tools will also help cut your admin, saving even more time and money on your organisation's business travel.
Why Ortharize?
Easy-to-use
Consumer pricing
No booking fees
24/7 support
Rewards for users who save money on travel 
FREE subscription with all the features you need to book, manage and report travel expenses in one place.
We're pretty confident we can help you return to business travel in a way that is not only safer but also better value for money. Why not book a free demo now?