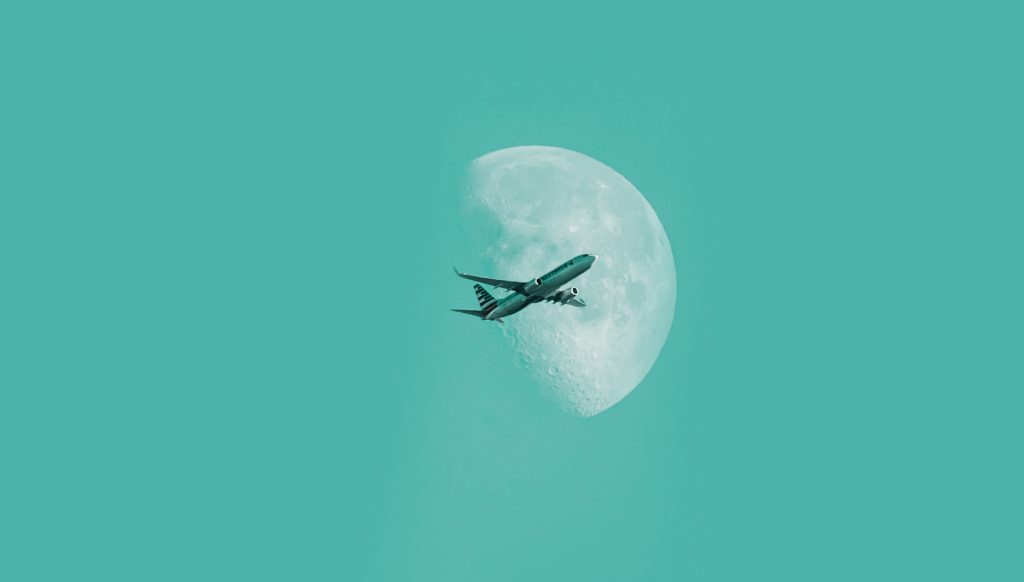 [Research] How do business travellers actually feel about sustainability?
Earth Day (22nd April) got us thinking- what can we do as businesses and business travellers to be more sustainability focused? We've only got one planet Earth, let's try to treat it right.

Earlier this year we worked with students from the school of management at Swansea University earlier this year, as part of their final year projects we asked them to conduct some market research with us. It's important to us that we offer a number of chances for students to work with us through the year as part of our commitment to being part of our local community.
After constructing a project to help with the marketing approach for our carbon emission monitoring tools, we wanted to find out how much organisations value the environment, sustainability and their carbon footprint. The results really have been interesting for us.
Who's answering our questions?
Here's the data that we got from 159 survey respondents: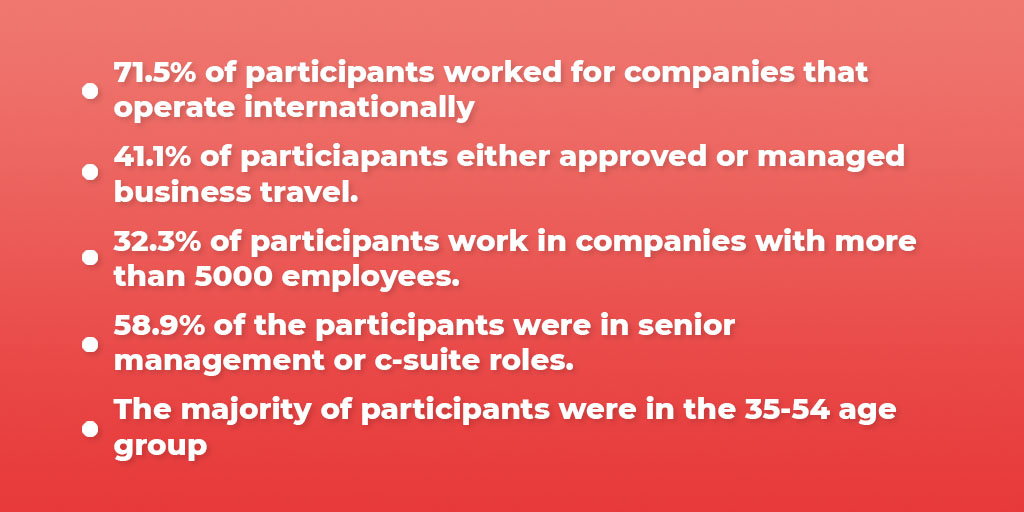 The survey found that over 50% of the participants worried about the impact that their business travel had on the environment. Further to that 65.8% of the participants told us that they're certain that their employers are concerned about how business travel impacts the environment too.
You might also find it interesting that we found a positive correlation in our data. Typically, the respondents' age positively corresponded with how much they believed their employers also cared about sustainability within business travel.
Covid versus Carbon?
Carbon footprints and CO2 emissions are ingrained in travel, but a new contender has stepped into the ring: Covid 19. With an increased concern for safety and hygiene during travel we found that this was a recurring theme during our research. There seems to be a focus on returning to travel safely, suggesting that sustainability might have taken a back seat. Take a look at what our respondents had to say about it: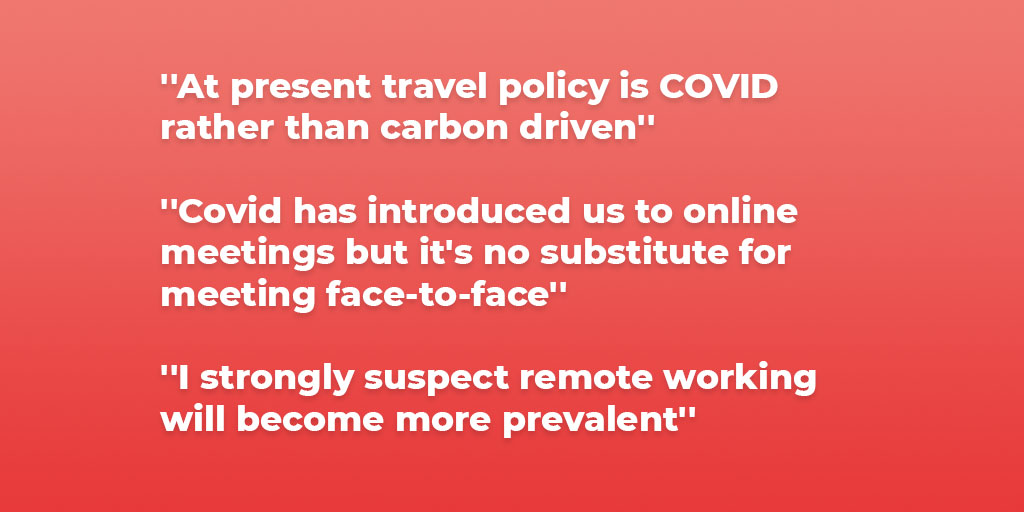 The pandemic hasn't only affected people's thoughts or opinions either. 2020 has shown us how travel impacts the environment around us. We've seen quieter roads, fewer planes in the sky, and a louder dawn chorus. In fact, carbon emissions were lower in 2020 than a few historic events, including; The 2008 financial crisis, The end of the great depression, and even the closing of world war 2. This graph from a study completed by Nature.com presents the data: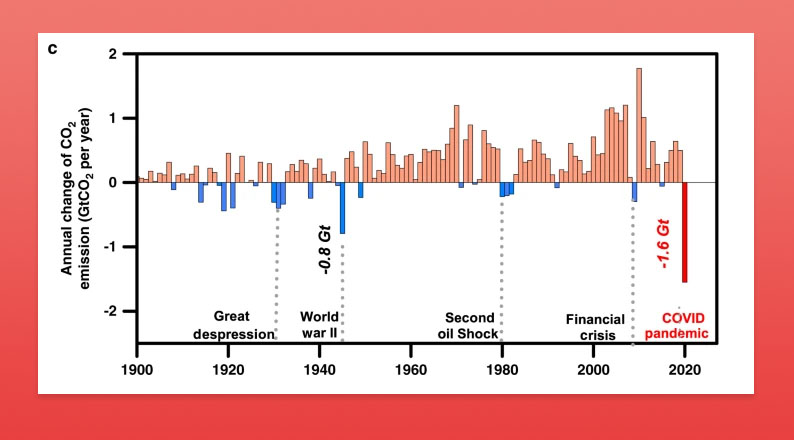 How can a business operate sustainably while thinking green?
As businesses we need to ask ourselves; How can we do more? Is it just about picking how and when we travel with more consideration? After all, most businesses (including ours) thrive on strong, personal relationships. These can only be formed with face-to-face interaction, which ultimately means more cars, coaches, trains, and planes.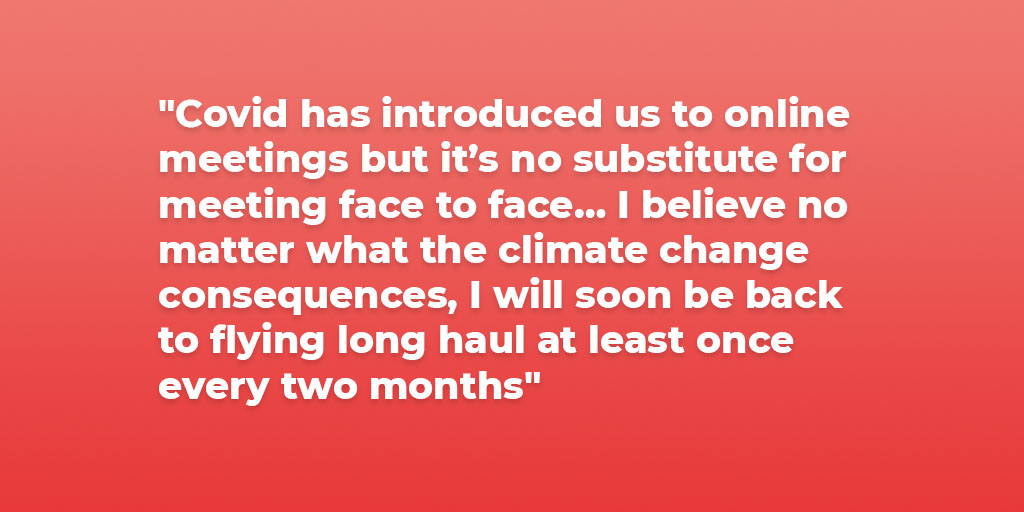 Could your company or employer begin adopting or implementing a more flexible travel policy? Combining a business trip with a leisure trip (See our previous article about Bleisure travel here). Combining the two trips can cut down up to 50% of additional travel. By adding leisure days onto your business trip, you'll fly half as often as you would have with separate journeys.
Sustainable carbon offset schemes
What do you know about Carbon offset schemes? They could be a necessary step in making your business more environmentally friendly. The schemes allow companies and businesses to invest in environmental projects all around the world. The idea is that this will reduce the impact of your carbon emissions by offsetting them with activities that either aid in absorbing existing carbon emissions, or reducing the production of new emissions from other sources.
These projects usually involve the planting of trees, however in recent years there's been lots of innovation into other ways that we can offset our business travel produced carbon emissions. A quick Google search will yield thousands of results, but we've found some great resources you can use. The Climate Neutral Group, CarbonFootprint.com, and Eco Act all offer so many ways to offset carbon emissions. They include sustainable agriculture projects, providing cleaner cooking alternatives, and even capturing methane gas from landfill sites.
It's time to shop local.
As businesses we use a lot of goods. Do you have access to fruit at the office? Or maybe a (seemingly) endless supply of stationary? Sustainability efforts can be improved by ensuring your office supplies and goods are sourced locally where possible, having them shipped or even flow in from another company might help the budget, but it's not doing the environment any favours. Fleet MPS have a good list of strategies you can use in your office to reduce your carbon footprint here.
There's no travel without a planet.
It's all of our responsibility to look after the planet Earth, and we know the consequences of mistreating it. As organisations of all sizes it's time to make proactive decisions when it comes to travel. We all have a desire to explore and seek out adventure, let's think Sustainability.
Again we'd like to thank the students at Swansea university for their hard work in discovering some of these findings. We love working with local students and enabling them to take part in important research and also internships that we host throughout the year.
What are we doing to help?
At Ortharize, we're showing that we care about the environment not just through words, but through features on our platform. We show our users the emission output of their flights before they book (so you can choose the lowest carbon emitting aircraft or flight), and offer environmentally friendly options (such as Eurostar) to give travellers even more choice. Through our CO2 emissions reporting, companies are also able to accurately measure the hardest-to-calculate part of an organisation's carbon footprint— their travel. Using our reports, you can measure individual, team and the entire organisation's carbon emissions and easily set targets to reduce; helping you with various green qualifications and awards.
Get started today by emailing us at [email protected]. It takes two minutes to sign your company up and we're on hand to help with any queries, if you have them. We also offer personalised demos and can help with platform setup through our expert implementation team. And if you need help shaping sustainable and environmentally-friendly travel policies that work for you, we can do that too.