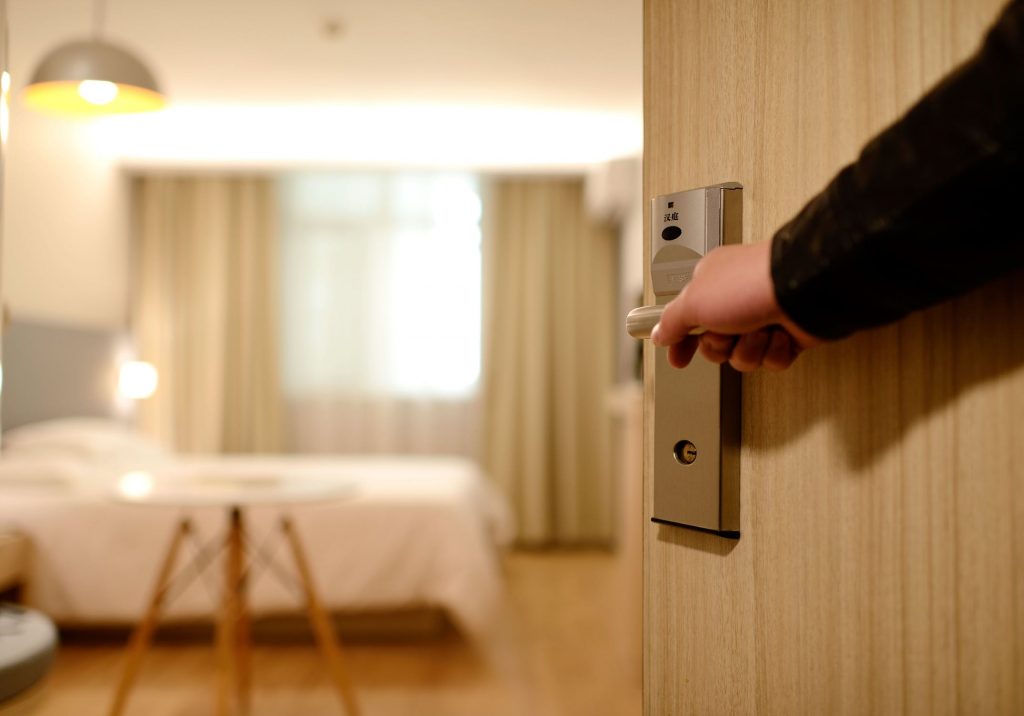 Staying at hotels post-COVID-19: What to expect
The swipe of the key-card. The buzz of the electric lock. The slow opening of the door to reveal your room for the first time. Whether you're a seasoned traveller, or a novice; there's something special about the hotel experience. As the second in our series on different travel aspects post-COVID-19, we talk about staying at hotels, wherever you are in the world. Many hotels have gone above and beyond to make their premises safe and hygienic ahead of reopening to the public.
Before booking, it's worth checking to see which measures your prefered hotel has implemented; increased cleaning services, plexiglass barriers at reception and social distancing signs through the hotel are common. Staff won't be offended to be asked about cleaning policies, and should be able to let you know what gets cleaned when housekeeping visits your room.
If you are considering cleaning the room yourself, note that you should take care when using disinfectant and chemicals— always read the label before use! Target high-touch surfaces such as doorknobs, tables, desks, phones, light switches, toilets, sinks, remote controls and taps. Different surfaces require different types of cleaning and more information can be found on the CDC website.
Many hotels are offering room service meals or have tables set up to eat within the comfort of your room to avoid mixing in a public restaurant. If this isn't on offer, the safest options are a food delivery or a drive-through restaurant. If you do visit a restaurant, make sure that they are operating social distancing and wearing adequate PPE.
Top Tips
Use online reservation and check-in, as well as mobile room keys if available and contactless or pre-authorized payment;
Many hotels will offer rooms that have been vacant for 24 hours prior to your arrival (you will need to call the hotel to arrange this);
If in doubt, call the hotel and they'll be happy to help with any concerns or questions;
Request for decorative cushions and throws be removed before arrival;
Check whether there is an option to have paper towels in the room instead of a hand towel.  
Resources
FCO Travel Advice

Find up-to-date information on travelling to any country across the globe from the UK Foreign & Commonwealth Office.

UK Government COVID-19 Info

Useful information on COVID-19 measures and precautions from the UK government.

IATA Travel Regulations Map

Excellent resource showing current travel restrictions for every country in the world, powered by Timatic.
About Ortharize
At Ortharize, we're making the world of business travel better.
We want to make it easier for you and your employees to book everything you need in one place. And we want to help you to keep costs down. We offer over one million hotels, more than four hundred airlines and all major car rental companies across the globe, including a large selection of budget options. We also offer all UK rail routes, with European and US rail on its way to our self-service booking platform very soon.
Our travel booking platform is easy-to-use. There are no booking fees. And with our exciting awards and incentives, your staff will be motivated to cut their travel costs. Our effortless automation tools will also help cut your admin, saving even more time and money on your organisation's business travel.
Why Ortharize?
Easy-to-use
Consumer pricing
No booking fees
24/7 support
Rewards for users who save money on travel 
FREE subscription with all the features you need to book, manage and report travel expenses in one place.
We're pretty confident we can help you return to business travel in a way that is not only safer but also better value for money. Why not book a free demo now?