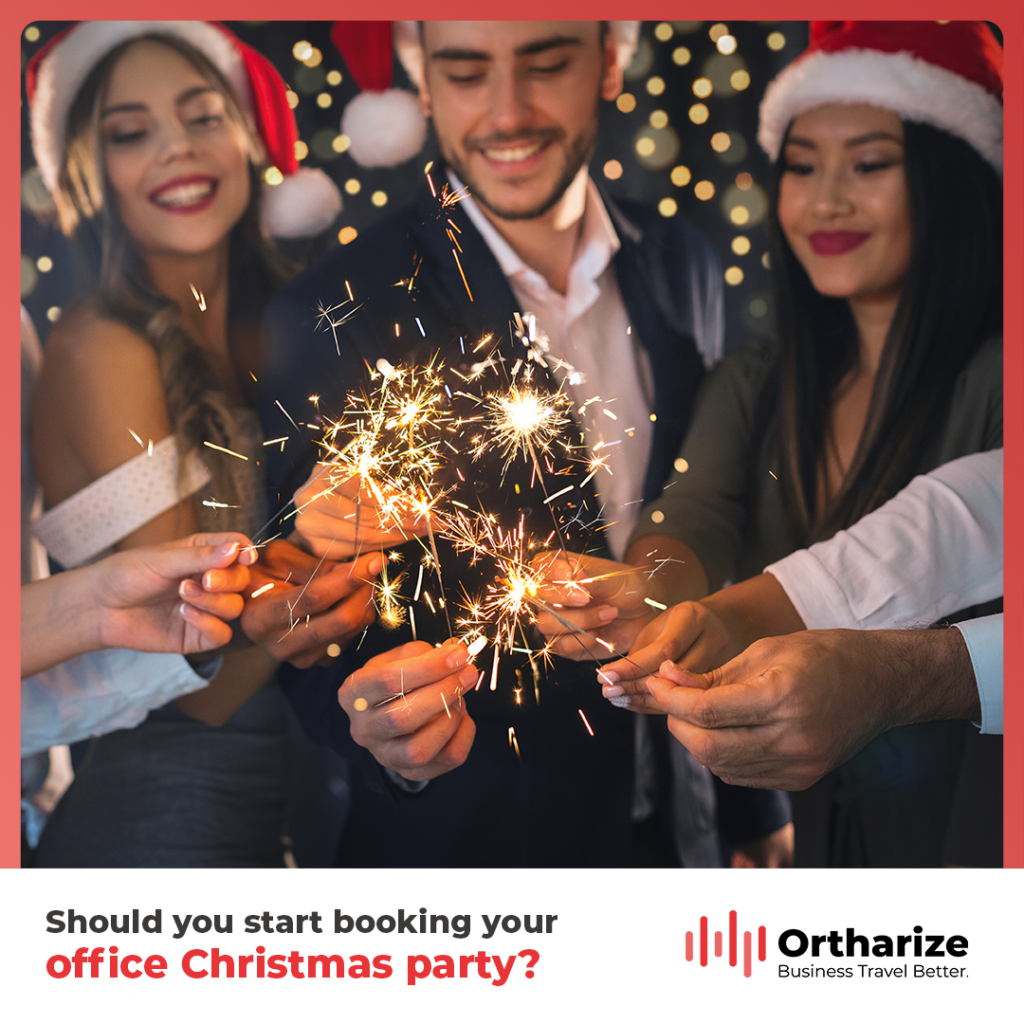 Have you booked your Office Christmas Party?
It's almost office Christmas party time, which means we're getting ready for a party, great company, celebrations, and let's face it, a bit of stress for all of us designated party planners. But worry not, we're here to take the hassle out of organising the perfect Christmas party. If you're the go-to person for planning office gatherings or want to relax and enjoy the festivities stress-free, our expert booking team is ready to craft you an unforgettable experience.
It's worth acknowledging that it's quite early to be talking about Christmas and office Christmas parties, but there's a valid reason for it. September has historically been the cheapest time to book hotels (Statista)
Why Plan an Office Christmas Party Early?
What are the benefits of booking early? Here's why you shouldn't wait until the last minute:
Venue options
Christmas party venues book up fast, and the later you leave it to book, the more likely they'll be either fully booked or more expensive. By planning in advance you'll secure the venue that meets the needs for your Christmas party on the perfect date too.
Ensuring guest availability
By planning early, you can also spread the word early! This makes it easier for everyone in the office to make sure they can attend. It'll also create some excitement and buzz for the event and should boost the number of attendees.
Allows for preparation
In the same vein as having more venue options, you'll also have access to far more options regarding travel and accommodation. Planning the Christmas party well in advance means you'll have access to much better rates on things like coaches, rail tickets, and hotel rooms.
Save stress – book and forget about it
Once everything is planned and booked, you can forget about it! NOce you've locked in the key elements, you can focus on the finer details and enjoy the fun part of planning a party, with none of the last-minute rush.
Vendor availability and negotiation
You'll also have access to a much wider range of vendors, from caterers to entertainment. You'll have your pick of the best, and might even secure better deals by booking ahead when they aren't overwhelmed with last-minute offers.
Time for staff input
You can involve your team in the planning process, finding out what everyone wants to eat and what the overall vibe is will make planning so much easier. Your office can make suggestions and people within your company might even know some people or places that you might otherwise have missed!
Securing preferred dates
Certain dates during the Christmas period can be much more popular for this kind of event. By planning early, you'll have a better chance of both securing your preferred date as well as avoiding any potential clashes with other events or outside commitments.
Can Ortharize handle complicated bookings?
Are you curious about our abilities and how we handle intricate and complex group bookings? Look to our case study here. In this standout example, we orchestrated a booking that involved 100 people from 5 different locations to 1 hotel, during peak travel and Wimbledon season in central London, demonstrating our expertise and commitment to conquering the most challenging scenarios.
Ortharize can help you plan and book your Office Christmas Party
If you're not already an Ortharize user, the first step to booking an incredible Christmas party is by booking a demo here, after that, we can get started on the planning. What are the key details that you need to share to make your event a hit?
How many guests?
What kind of venue are you looking for? Perhaps a charming hotel with available rooms?
Are your teams travelling from multiple locations/offices? Will they need transport?
Is catering part of the plan?
What date?
Once we've got these details we'll be in touch to start planning the perfect office Christmas party!